Download the Temperature Afghan Reference Card and create a year-long blanket one row per day.


Are you looking for a year-long crochet project with a set start and definitive end? Do you enjoy working on a blanket or afghan a little at a time every night on your couch in front of the TV? Do you appreciate a contemporary look with a seemingly random pattern? Have I got a project for you! A Temperature Afghan!
What exactly
is
a Temperature Afghan, you ask? Simple. It is a crochet (or knit) blanket stitched one row per day for an entire year, matching the color of the yarn to the temperature outside your window. To keep that from becoming too overwhelming, plan your colors in advance with set temperature ranges and work in a simple, short crochet stitch.
CROCHET TEMPERATURE AFGHAN HOW-TO
Find a reliable source for temperatures. Find an on-line source for temperatures at the location of your choice, preferably with a good archive. Of course, you could also put a thermometer outside your window and vow to look at it at the same exact time everyday ...for 365 days without fail, but let's be realistic. If the source includes an archive, you'll be able to refer to it when an emergency or vacation or life puts your daily crochet schedule on hold.

2018 Temperature Afghan: I live in the mid-Atlantic region of the United States (think Washington DC-ish), and worked in Fahrenheit from the AccuWeather website.

Pick a color palette. Temperature Afghans are traditionally worked in a true rainbow of colors with warm reds and oranges for the warm days, yellows and greens for the moderate days, and cool blues and purples for the cool days. You are more than welcome to work in any colors you choose, but I'd like to challenge you to skip that classic color palette and match your afghan colors to a favorite room in your home instead. The result will be a seemingly random pattern of stripes, in hues complimentary to your own decor.
2018 Temperature Afghan: I worked in a combination of Lion Brand Heartland Yarns (LB) and Premier Yarns Deborah Norville Everyday (PY), from coldest to warmest: LB Black Canyon, 153; LB Great Smoky Mountains, 149; LB Mount Rainier, 150; LB Grand Canyon, 122; PY Cream, ED100-02; LB Yellowstone, 158; LB Yosemite, 135; PY Terracotta Heather, DN110-14.

Choose your yarn.

You probably have a good sense of the range of temperatures to expect in the coming year (or you can reference the archive for a previous year from your Temperature Source in Step 1), but do not count out that random blizzard or heat wave. Choose a yarn from a source you are confident you could go back to if you need more. Six months later, you probably won't find the same dye lot, but at least you'll have the right color and texture if you choose a known brand. Start with two to three skeins for each temperature range; more skeins for the ranges you know will be more frequent, less skeins for the infrequent temperatures.

2018 Temperature Afghan: I cannot stress enough choosing a known brand. I set this project aside mid-way and completed it in November 2019. At that point I had to hunt down addition Premier Yarns Deborah Norville Everyday skeins as my local Joann's no longer carried any (hooray for the internet!). Luckily, the Lion Brand Heartland was still available in the colorway I needed.

Choose a short crochet stitch to work in.

Remember, you'll be hooking 365 rows and you wouldn't want the final blanket to be too long and unwieldy. Choose a crochet stitch that is short in height.

2018 Temperature Afghan: I chose to work in single crochet which yields true stripes. I also heavily considered a Moss Stitch, with it's even shorter height and interlocking colors. The Spider Stitch is another option, though slightly taller than a single crochet.

Choose a hook. Pick a hook size that will give you a lovely drape in your completed blanket. Take the time to create a sample swatch in the stitch and yarn of your choice aiming for 5" x 5". Note the drape and how many rows it took to get there; calculate the final length of your blanket for 365 rows and adjust your hook size and chosen stitch accordingly.
2018 Temperature Afghan: I found a size H8/5.00 mm crochet hook worked well for me.

Choose a width. One row every day for a full year equals 365 rows long. You'll want to choose a width for your blanket that feels proportional when you're finished. On the swatch created in Step 5, count your stitches across and calculate how many stitches you'll need in your foundation row to balance out the length you'll create.
2018 Temperature Afghan: I worked 200 stitches across for a width of 50" without a border. Now that it's completed, I wished I had worked 50-100 stitches wider. Next time.

Set up a project basket or box. Find a safe spot of your house to set up your yarn, a dedicated hook, and your temperature chart with pencil; beware attack kitties or project-making, yarn-"borrowing" children. You're ready to start!
The Inspired Wren Temperature Afghan Reference Card: print it out, fill it in, fold in half, and thread swatches of your yarn onto the edges in your chosen color palette. Use the Temperature Afghan Chart to keep track of your progress.
To help you out, I've cleaned up and created a new printable form of the chart and notes I used in 2018. Download the
Temperature Afghan Reference Card here for just $1.99!
Complete the form by filling in the choices you've made for hook, stitch, and yarn details. Then fold the double-sided print-out in half, punch holes along the folded edge where indicated, and thread your yarn swatches onto the card. Fill in the daily temperatures from the source of your choice as you go; you can fill in just the temp, just the yarn color code, or both. Ta-da! A handy reference card and chart to keep you on track throughout your year.
TIPS
Use stitch-markers at the end of every even row and every set of ten rows. You don't want to inadvertently skip or double up on a day. The further into the year you hook rows, the more you'd have to count to be sure you're working on the day you think you're actually working on.
Similarly, regularly count the stitches across your row even when working in a simple, repetitive stitch such as the single crochet. You don't want to fold your project in half in June and realize you somehow got narrower (or wider) by 6 stitches, back in April.
Be sure to cross off the temperatures/days on your chart as you complete each row or you may end up lost if you are not hooking a row daily.
As you switch colors, crochet over the tails of the previous color so that they are woven in as you go. At the very least, weave in your tails once a month; you won't be changing color every day, but there will still be hundreds of tails if you wait until the end.
Set aside a dedicated hook for this project -- it's okay to have duplicate-sized hooks -- consider this hook off limits for other projects for the entire year.
Use stitch markers to count rows along one side of your work as seen in this example from a different project; one color for 2s, a second color for 10s -- move the 2s up after you add the next 10.
ADDITIONAL OPTIONS
Consider dividing the months with a row or two of white or black in between. Likewise, you could also raise the last day of the month by hooking the first row of the next month into the front- or back-post of the previous row (as I did for the 2016 Temperature Afghan). If you opt for a raised row, aim to keep the raised rows on the same side of the afghan each time.
Try switching between two stitches monthly: hook odd numbered months in stitch A and even number months in stitch B.
Instead of switching stitches between months, consider matching stitches to the precipitation: stitch your row in bobbles on a rainy/snowy days.
Many Temperature Afghan's are created to document a year from January 1 to December 31. Consider beginning on the birth day of the newest baby in your life: from birth to the first birthday. Or from day one of the first semester at college to the end of freshman year. Or to document a milestone year of your own (first year of marriage; 30th year on earth; first year of retirement).
You could also work narrow to create a scarf. Or stitch only six months but turn the afghan so that the rows become vertical stripes along the length (as if you're hooking up and down the blanket, instead of side to side).
The pleasure in creating this afghan is in having a project to hook a little at a time each night. No accidentally staying awake past bedtime because you just need to finish one. more. row. No feeling overwhelmed at the size of the project as you begin; you know it will break down into easily worked days. No worry that it won't be finished in time to gift when you already know the end date. And the result is a keepsake anyone will be proud to snuggle under for years to come.
If you use this tutorial, I'd love to see and hear about your results. Come share your projects on
The Inspired Wren Share page
. There you can link up your images from a blog, Flickr, Pinterest, or Instagram.
MORE CROCHET ON THE INSPIRED WREN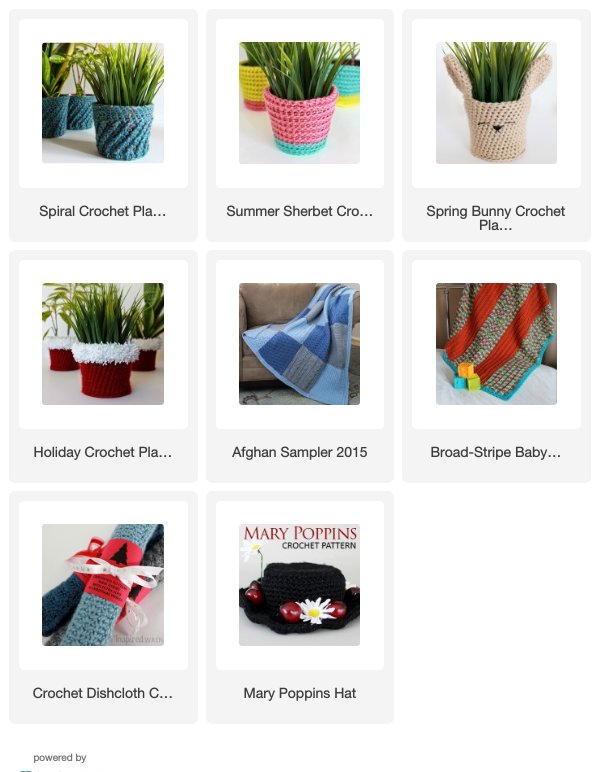 Ren Murphy writes for The Inspired Wren.
___________________________________________________
You should really see all that goes into each project!
From my marathon sewing sessions, to all that I do when I #shouldhavebeensewing catch daily updates on
Instagram
(and
Flickr
) of works-in-progress. Get that behind the scenes view you're looking for, and sneak peeks of upcoming tutorials, too.
___________________________________________________
The Inspired Wren is a participant in the Amazon Services LLC Associates Program, an affiliate advertising program designed to provide a means for sites to earn advertising fees by advertising and linking to amazon.com.