I am going to crochet a contemporary afghan sampler over the course of the year to be finished in time for Christmas 2015; perfect for giving away or cuddling under. And I'm going to make it up as I go. Join me!
Don't panic, I have plans to work from -- the 2015 Afghan Sampler will not be entirely made up. Here's what I know:
The afghan will be comprised of twenty 9-inch squares.
There will be five rows made up of four squares each. [Final size: approx. 36" x 45"]
We will crochet ten sample-stitches.
We will complete two squares each month using one sample-stitch.
Each square will be a solid color, and each sample-stitch will be completed in two colors.*
The final blanket will have a total of three colors.*
*You may also opt to make a monochromatic afghan, one color is also a lovely look. OR maybe you want to go multicolored and use ten, or even twenty, colors. The choice is yours; I'll be working tri-color (but the image below makes me want to do a monochromatic one at the same time).
EXAMPLES
Tri-color sampler versus monochromatic sampler; the 2015 Afghan Sampler will have squares proportional to the left. [Source and source.]
LAYOUT
The schematic below is the plan I will be using to be sure the stitches compliment each other and that we are working in the correct colors. On the last Tuesday of each month I will announce the Square of the Month and instruct you on the stitch- and row- counts to achieve your two 9" squares. I'll also let you know which two colors you'll need for the month. Soon, you'll see a new Crochet Along tab at the top of the blog where you can find all the information about the 2015 Afghan Sampler in one place.


The numbers here indicate the sample-stitch or Square of the Month, and the color illustrates a tri-color layout.
YARN
Ready to get started? You'll need a color scheme and yarn.

Have I mentioned I'm making this up as I go; this means I'm am making my best educated guess as to how much yarn we will need. I believe we are going to need two 6 oz (or 315-yard) skeins of each color, for approximately 12 oz (or 630) yards of each color (based on the amounts needed for this sampler). Personally, I am starting with three of each to be safe: Caron Simply Soft in Grey Heather (Color A), Light Country Blue (Color B), and Country Blue (Color C).
Edited 2016:
The final sampler used three 6 oz (of 315 yard) skeins of Colors A and C, and four 6 oz (of 315 yard) skeins of Color B. I used
Caron Simply Soft
[
affiliate link
] in Grey Heather (Color A), Light Country Blue (Color B), and Country Blue (Color C).
SQUARE ONE, JANUARY
The January Square is a classic ridged fabric made using the basic single-crochet stitch. You'll achieve this look by working in
the back loop only
. There's not a lot to these directions, so here we go:
Hook
H/8 - 5.00MM, or size needed to obtain 9"x9" square
Yarn
Colors A and B (See under Yarn above for my choices)
Stitch
CONSTRUCTION
Row 1: Working in Color A, ch 39, sc in second stitch from hook and each ch across OR 38 fsc; 38 stitches
Rows 2-55: ch 1 (does not count as st), turn, sc blo in each st across (including 1st st); 38 stitches
Border: *work 38 sc along one side of the square, ch 1 (does not count as stitch), repeat from * on each side of the square. Yarn off, and weave in ends

Repeat with Color B for a second, separate square.
[Full disclosure: I've spent my time planning and putting together this post, and as I hit publish I have yet to complete my Color B January square!]
HOMEWORK
Now go out and get yarn -- gather up those coupons, find the sales, spin some wool, trade your best work, whatever it takes. Then hook up your two January Squares and meet me back here on February 24th for Square 2. Of course I can never not brag about my work in progress, so if you need a sneak peek I'm sure you'll find one
on
Instagram
(or Facebook
) under the #afghansampler hashtag.
FREQUENTLY ASKED QUESTIONS
Looking for the rest of the squares? Click on the Crochet Along tab a the top of this site!
Other questions? Size? Rows? Border Count? Visit Frequently Asked Questions!
MORE CROCHET ON THE INSPIRED WREN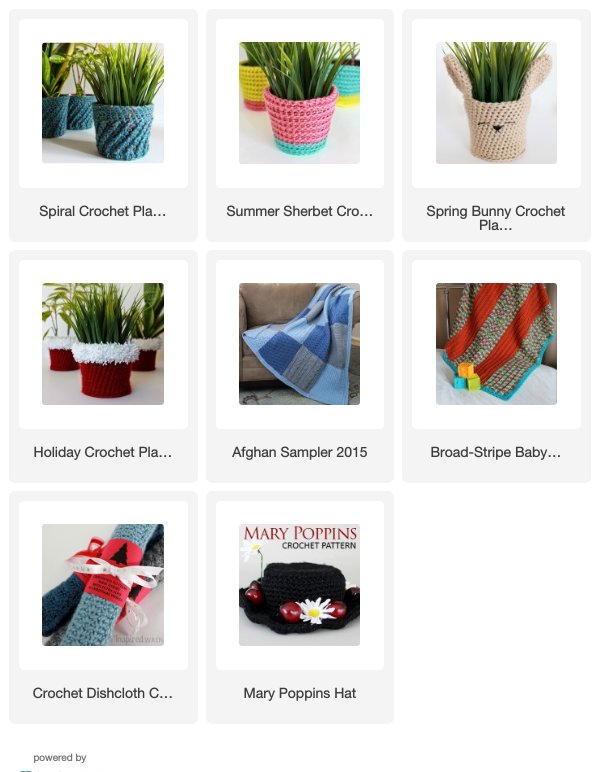 ___________________________________________________
You should really see all that goes into each project!
From my marathon sewing sessions, to all that I do when I #shouldhavebeensewing catch daily updates on
Instagram
(and
Flickr
) of works-in-progress. Get that behind the scenes view you're looking for, and sneak peeks of First Tuesday Tutorials, too.
___________________________________________________
The Inspired Wren is a participant in the Amazon Services LLC Associates Program, an affiliate advertising program designed to provide a means for sites to earn advertising fees by advertising and linking to amazon.com.