It's here! Five years after it was begun,
The Inspired Wren's 2015 Crochet Along Afghan Sampler
finally
has a downloadable, printable pattern. No more excuses; 2020 is
your
year to get that Sampler off your
Pinterest
board and onto your couch.
In 2015,
The Inspired Wren
published a
Crochet Along Afghan Sampler
. The Sampler included ten sample crochet stitches, each originally published one stitch per month January through October; November and December included directions on joining the squares and hooking a border. A completed 2015 Afghan Sampler features 20 squares, 10 stitches, and 3 colors in one 36" x 45" blanket.
Now there's a single, printable pattern with the entire set of directions in one place. The original twelve posts have been collected into one 11-page document and you can
download the PDF here
for just $4.99! Easily print it off to take with you wherever you may be. The
original patterns and posts for the 2015 CAL
will remain on
The Inspired Wren,
now you also have the option save it for yourself and reference an off-line version.
What are you waiting for? Download the pattern and get the yarn on your hooks today!
SHARE YOUR PROGRESS
How are your squares coming? What yarn did you choose? What color palette? I'd love to see, so don't forget to use the #afghansampler hashtag and tag me on
Instagram
and social media.
Are you finished? YAY! Be sure to add your finished piece to the
Link Party
so we can all cheer with you!
MORE CROCHET ON THE INSPIRED WREN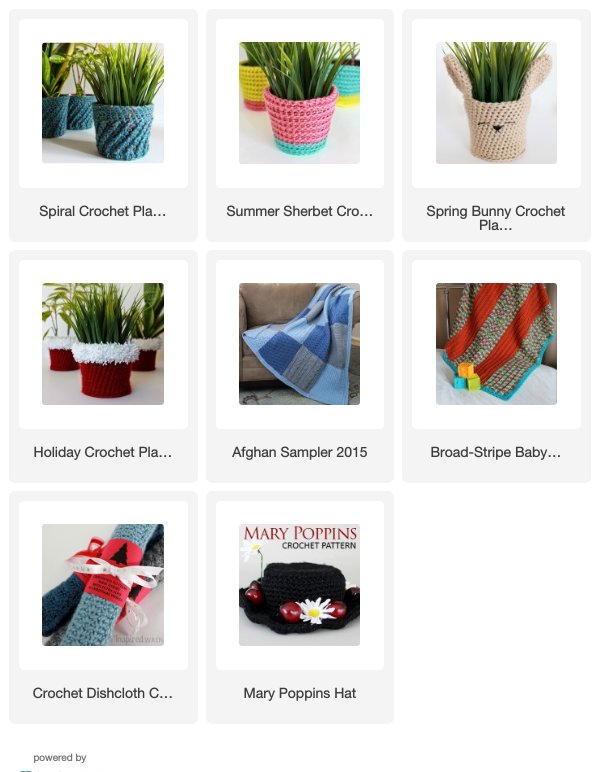 Ren Murphy writes for The Inspired Wren.
___________________________________________________
You should really see all that goes into each project!
From my marathon sewing sessions, to all that I do when I #shouldhavebeensewing catch daily updates on
Instagram
(and
Flickr
) of works-in-progress. Get that behind the scenes view you're looking for, and sneak peeks of upcoming tutorials, too.
___________________________________________________
The Inspired Wren is a participant in the Amazon Services LLC Associates Program, an affiliate advertising program designed to provide a means for sites to earn advertising fees by advertising and linking to amazon.com.