It's the 2015 Afghan Sampler! Crochet two squares per month and have a finished blanket in one year.
The afghan will be comprised of twenty 9-inch squares.
There will be five rows made up of four squares each. [Final size: approx. 36" x 45"]
We will crochet ten sample-stitches.
We will complete two squares each month using one sample-stitch.
New squares will be posted on the Last Tuesday of the month. All squares have been posted.
Each square will be a solid color, and each sample-stitch will be completed in two colors.*
The final blanket will have a total of three colors.*
You can stitch the squares in any order, but START WITH SQUARE 1. There you will find information on yarn amounts and color schemes.
*You may also opt to make a monochromatic afghan, one color is also a lovely look. OR maybe you want to go multicolored and use ten, or even twenty, colors. The choice is yours; I'll be working tri-color.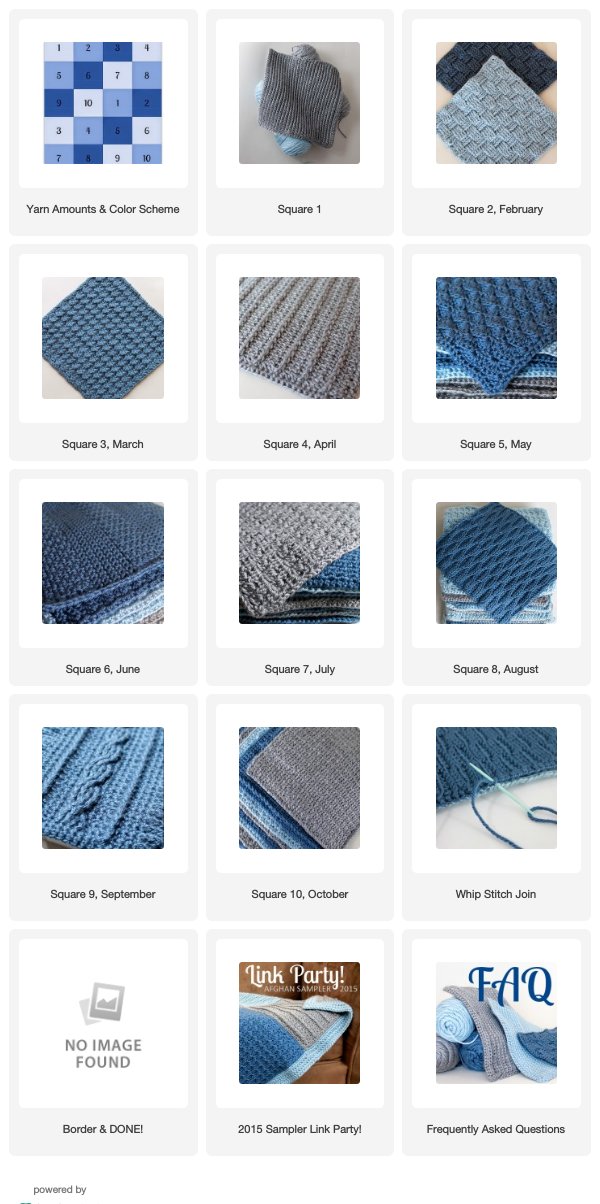 There's also a single, printable pattern with the entire set of directions in one place. The original twelve posts have been collected into one 11-page document and you can
download the PDF here
for just $4.99! Easily print it off to take with you wherever you may be.
The original patterns and posts for the 2015 CAL will remain on The Inspired Wren; now you have the option save it for yourself and reference an off-line version. What are you waiting for? Download the pattern and get the yarn on your hooks today!
SHARE YOUR PROGRESS
How are your squares coming? What yarn did you choose? What color palette? I'd love to see, so I've set up a
Flickr Group
where anyone working on the 2015 Afghan Sampler can share and discuss their progress so far. Join us! And don't forget to use the #afghansampler hashtag on
Instagram
.
Are you finished? YAY! Be sure to add your finished piece to the
Link Party
so we can all cheer with you!
MORE CROCHET ON THE INSPIRED WREN
Click for a tutorial how-to crochet a Temperature Afghan with tips & tricks plus a printable Reference Card!