Quickly hook up a cozy lapghan throw blanket with this simple, contemporary crochet pattern.


After working in long rows of color-changing, tight single-crochet for over a year (what? some of us take longer to finish
a year-long temperature afghan
than others), I was ready for something quick and rhythmic in a monochromatic neutral. How about you?
All this year I've been pulled toward ready-to-purchase, chunky throw blankets in stores, then realized I could make one myself. So I grabbed a
whole lot
of super bulky yarn instead. I found a nice flat and solid stitch pattern, worked small for speed, threw in a texture change with some stripes, and added a simple flat border. I made it up as I went and I love the end result! This 36" x 50" afghan is perfect on my lap with a library book and my quiet afternoon before-school-bus cup of coffee. Thus the almost named "cozy coffee-time throw" became the Chunky Library-Book Lapghan.
This pattern is so simple I can write it in six sentences:
On a chain of 63, crochet one single-crochet and then one double-crochet repeatedly across for 62 stitches into sixteen rows (gauge: 4" x 4" =

8 stitches, 8 rows).

Work a single-crochet into the back-loop-only across the entire row for 62 stitches into ten rows.
Switch back to the single-crochet/double-crochet repeat for the next

40

rows.
Then back-loop-single-crochet for ten rows again.
Finish up with the single-crochet/double crochet repeat for the last sixteen rows (

92

rows total).
Finish the edges with a slightly larger hook, working a round of singe crochet, three rounds of moss stitch, and a final round of single crochet around the border.
Apparently, I have an affinity for the back loop only crochet technique:
Broad Stripe Baby Blanket
;
Summer Sherbet Crochet Planter
;
Crochet Along Afghan 2015, Square 1
. I even tried a few different stitches for the stripes before realizing my trusty back loop crochet was the look I was trying to get with those other attempts. The end result of using this stitch back and forth ten times, is a series of five stripes on
both
sides of the blanket -- yay, it's reversible! But what does back-loop-only mean exactly? Instead of working your hook from front to back under
both
loops of a previous stitch as we normally do, you will insert your hook from front to back into only
one
loop, the one furthest from you (the "back loop"), then complete the stitch as you normally would. Like so:
Don't insert your hook through both loops of the previous row's stitch, insert your hook as the arrows indicate, through the Back Loops Only
Once you understand back-loop-only, you realize that this blanket is comprised of really basic crochet stitches, making it super easy and quick. So what are you waiting for? Grab yourself about 16 skeins (64yd/59m each) of super bulky yarn, a size N/15 -- 10.00mm and a size P -- 11.5mm crochet hook, and get hooking today! You, too, can have a cozy Chunky Library-Book Lapghan for your next quiet coffee-filled me-time.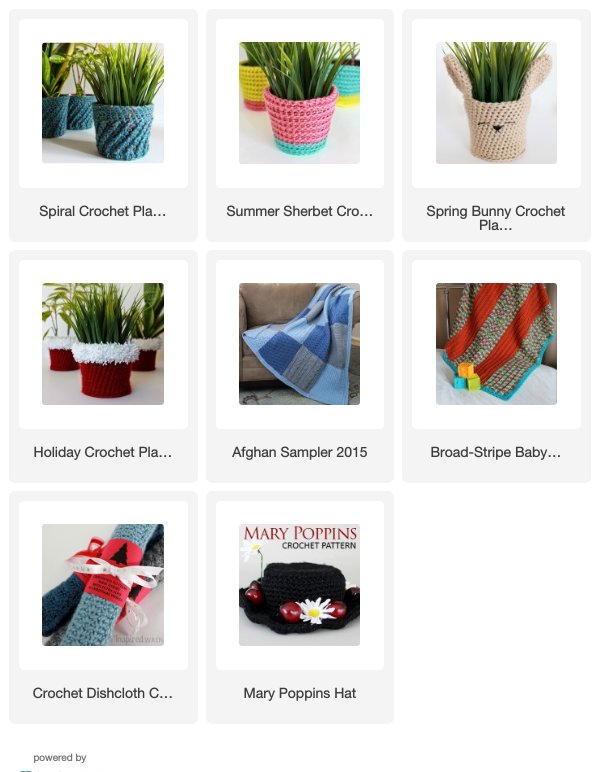 Ren Murphy writes for The Inspired Wren.
___________________________________________________
You should really see all that goes into each project!
From my marathon sewing sessions, to all that I do when I #shouldhavebeensewing catch daily updates on
Instagram
(and
Flickr
) of works-in-progress. Get that behind the scenes view you're looking for, and sneak peeks of upcoming tutorials, too.
___________________________________________________