Quickly hook up a cozy doll blanket with this simple, contemporary crochet pattern.


After completing the
Chunky Library-Book Lapghan
, I had a large sample swatch plus a few skeins of yarn left over...the beginning and finishing of a
doll-sized
version of the same blanket. So I made one up for The Peanut. Then I remembered my mama-to-all-dolls niece was about to turn two, so I pulled the softest yarn off the store shelf and made another one just for her. You can, too.
MATERIALS:
3-4 skeins (64yd/59m each) or 202 yards of super bulky yarn; N/15 -- 10.00mm crochet hook
ROWS 1-8: On a chain of 37, crochet one single-crochet and then one double-crochet repeatedly across for 36 stitches into eight rows (gauge: 4" x 4" =

8 stitches, 8 rows).

ROWS 9-14: Work a single-crochet into the back-loop-only across the entire row for 36 stitches into six rows.
ROWS 15-32: Switch back to the single-crochet/double-crochet repeat for the next

18

rows.
ROWS 33-38: Then back-loop-single-crochet for six rows again.
ROWS 39- 46: Finish up with the single-crochet/double crochet repeat for the last eight rows (

46

rows total).
BORDER: Finish the edges working a round of singe crochet on all four sides, and you should have just enough yarn to finish off using your preferred method.
DONE!
You'll note the stripes created by the back-loop-only crochet are more evident in the monochromatic yarn than in the variegated yarn. Something to keep in mind as you choose your color-way for this project.
Because I was working with left over yarn (and then two skeins of variegated yarn, each 101 yards), I almost ran out as I got to the end. Therefore this blanket is seemingly border-less. Of course you are welcome to add the border of your choice if you have more yarn on hand (I love the thin moss stitch border on the full-sized lapghan).
If you need, check out the original Chunky Library-Book Lapghan for a
photo illustration of Back Loop Only crochet
. Once you understand back-loop-only, you realize that this doll's blanket is comprised of really basic crochet stitches, making it super easy and exceptionally quick. So what are you waiting for?
Download the full, detailed pattern here for just $1.99!
You, too, can have a cozy Chunky Doll Blanket to gift to your favorite, little, doll mama.
If you use this pattern, I'd love to see and hear about your results! Be sure to use #
chunkydollblanket
and tag
@theinspiredwren
on Facebook and Instagram!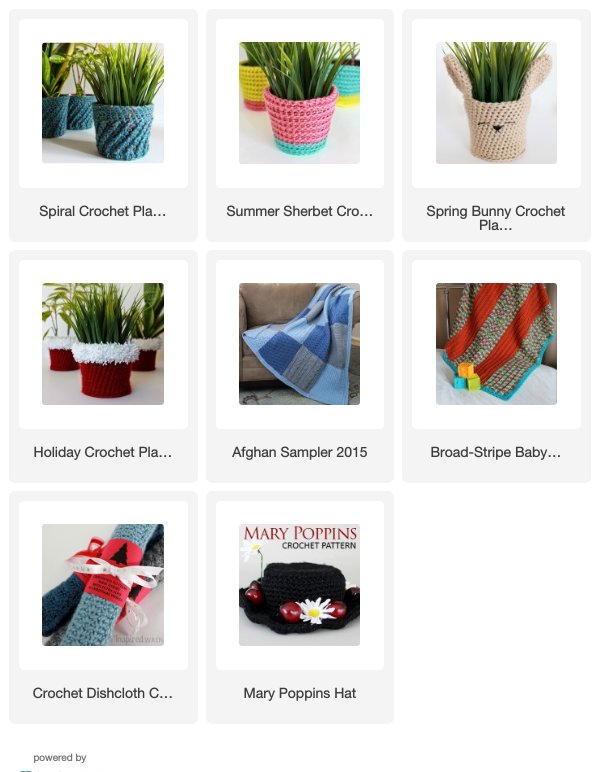 Ren Murphy writes for The Inspired Wren.
___________________________________________________
You should really see all that goes into each project!
From my marathon sewing sessions, to all that I do when I #shouldhavebeensewing catch daily updates on
Instagram
(and
Flickr
) of works-in-progress. Get that behind the scenes view you're looking for, and sneak peeks of upcoming tutorials, too.
___________________________________________________
The Inspired Wren is a participant in the Amazon Services LLC Associates Program, an affiliate advertising program designed to provide a means for sites to earn advertising fees by advertising and linking to amazon.com.