Take an inexpensive house-plant and make it special with the Holiday Crochet Planter Cover pattern!
It's
almost
time to deck the halls with red and green! (I know last week I was all "
Halloween, YAY!
," and now I'm all "Christmas, WooHoo!," and you're all "I'm getting whiplash over here and what about Thanksgiving anyway?" Welcome to my brain.) The end of November means it's time to change out
the crochet planter covers in my kitchen
. This month while watch-listening to TV I crocheted up a few Santa-inspired sleeves so my plants can spread the Christmas cheer, and I've written it down so you can, too.
This is a quick project (one evening, a couple of TV shows, and done!) -- perfect for a grab-bag or hostess gift, or for changing out your own planter covers this holiday season. If you're like me and prefer to print out the tutorials and patterns you use,
download the 2-page PDF version here
for just $1.99! Otherwise, read on for the full Holiday Crochet Planter Cover pattern for 4-inch plants.
PROJECT INFO
Size J (6mm) Crochet Hook
Serenity Chunky Solids by Premier Yarns in Red Ochre
Tizzy by Bernat in Marshmallow White
GUAGE
Rows 1–4 = 3.25″ diameter
FINSIHED SIZE
* Bottom crocheted diameter = 3.25″; Height = 4″
*The top cuff includes an increase and the stitches stretch to fit a planter that has a 4″ diameter across at the top.
NOTE: Read the directions carefully, some rounds include a rise, some rounds include a rise and a turn, and others are worked in the round without a rise.
STITCHES
ch:
Chain
sc:
Single Crochet
hdc Half Double Crochet
sl st:
Slip Stitch
CONSTRUCTION

BOTTOM


Round 1 [in red]: Working in Magic Ring, ch 2, hdc 7, sl st into ch to join; 8 stitches

Round 2: ch 2, 2 hdc in each st 7 times around, hdc 1, sl st to join, 16 stitches

Round 3: ch 2, [hdc 1, 2 hdc in next st], repeat within [ ] 7 times, hdc 2, sl st to join; 24 stitches

Round 4: ch 2, [hdc 2, 2 hdc in next st], repeat within [ ] 7 times, hdc 3, sl st to join; 32 stitches



Rounds 1 - 4 complete.
NOTE: I'm left handed and flipped each of these images for the right hand perspective. You're welcome right-handers; sorry lefties.
SIDES
Round 5:
ch 1, TURN, working in bottom loop created by hdc of Round 4 (see illustration) sc in each loop around;
32 stitches
The fist stitch of Round 5 on hook; the arrows indicate the next three loops for stitch placement.
Round 6–14: sc around; continue working in the round without a join or rise; 32 stitches
Rounds 1 -14 completed.
Rounds 15: Switch to white yarn, sc around; 32 stitches
Round 15 in progress.
Round 16: [sc 7, 2 sc in next st], repeat within [ ] around (4 times); 36 stitches
Round 17: sc around, finish off; 36 stitches
YOU'RE DONE!
This Santa-inspired crochet cover takes an inexpensive, store-bought house-plant and makes it special. The Tizzy yarn really makes it! The planter comes together quickly and would make a great grab-bag or hostess gift. Make one to cover an empty can and use it as a desk accessory for pencils. Personally, my plants will sit on the windowsill bringing me holiday cheer whenever I'm at the kitchen sink.
PS -- Thanks for reading to the end. If you're looking for other projects to hook, check out these great crochet tutorials here on The Inspired Wren! ~Ren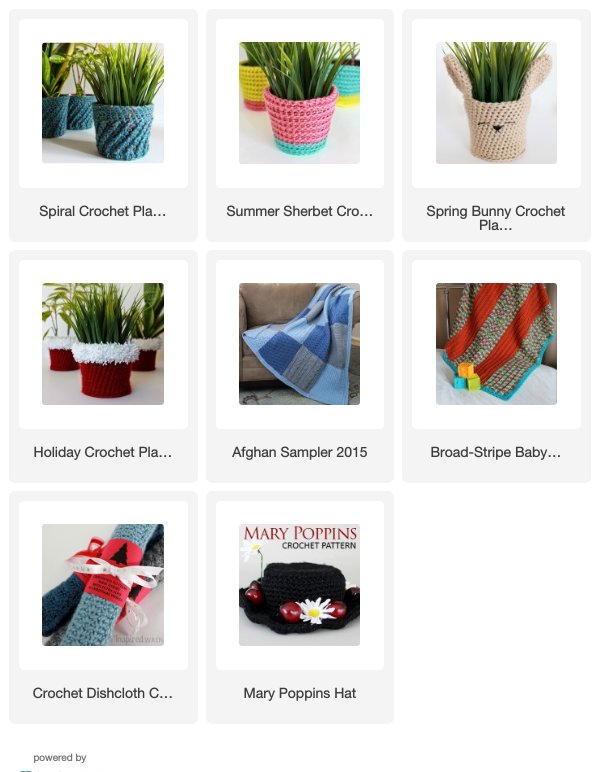 Ren Murphy writes for The Inspired Wren.
___________________________________________________
You should really see all that goes into each project!
From my marathon sewing sessions, to all that I do when I #shouldhavebeensewing, catch daily updates on
Instagram
(and
Flickr
) of works-in-progress. Get that behind the scenes view you're looking for, and sneak peeks of First Tuesday Tutorials, too.
___________________________________________________
The Inspired Wren is a participant in the Amazon Services LLC Associates Program, an affiliate advertising program designed to provide a means for sites to earn advertising fees by advertising and linking to amazon.com.