Bring some fall-like texture and color into your home! Crochet cozy sweaters for your plants with this quick Spiral Crochet Planter Cover.
I'm not the best when it comes to keeping plants. I certainly don't have a green thumb. But I have two hardy little guys that sit on my kitchen windowsill. And they have sat there in their original, basic brown plastic containers for over three years now. As the plants have grown and kept me happy company, those straight-from-the-store, bland containers have irked me. It was time to do something about it. But I'm fearful of re-potting. And the windowsill is too narrow for an outer decorative pot. Inspired by
this adorable image
on Pinterest, I sat down one afternoon to figure out a crochet cover for my plants. I wrote it out to share here with you.
The two kitchen plants are not as photogenic as this plastic Ikea plant from the window-less guest bedroom. But even plastic plants can don sweaters!
We've been in the pool every day for the better part of two weeks, and yet school supplies have been purchased, sewing of the annual backpack is underway, and
this is also happening
in my backyard. Fall is on our minds if not in the air. I decided to work up a little Autumnal spiral cable-inspired sweater for my plants (I'm saving those the adorable bunnies from the inspiration pic for Spring). The first version took me a solid afternoon while I stopped every other row and checked that the cover fit properly...and frogged and restitched until it did. The second flew off the hook in one evening of television watching/listening. My eyes were on the yarn, my ears on
New York: A Documentary
because apparently Mr. Wren & I are nerds, or just old folk who enjoy documentaries (while crocheting), now get off my front porch, you young whippersnapper!
This is a quick project, perfect for a gift or for changing out your own planter covers by season or on a whim. If you're like me and prefer to print out the tutorials and patterns you use,
download the 2-page PDF version here
for just $1.99! Otherwise, read on for the full Spiral Crochet Planter Cover pattern for 4-inch plants.
GUAGE Rows 1–4 = 3.25″ diameter
FINSIHED SIZE
* Bottom crocheted diameter = 3.25″; Height = 4″
*The top cuff includes an increase and the stitches stretch to fit a planter that has a 4″ diameter across at the top.
NOTE: Read the directions carefully, some rounds include a rise, some rounds include a rise and a turn, and others are worked in the round without a rise.
STITCHES
ch:
Chain
sc:
Single Crochet
hdc:
Half Double Crochet
dc:
Double Crochet
fpdc:
Front Post Double Crochet
sl st:
Slip Stitch
CONSTRUCTION
BOTTOM
Round 1:
Working in Magic Ring, ch 2, hdc 7, sl st into ch to join;
8 stitches
Round 2:
ch 2, 2 hdc in each st 7 times around, hdc 1, sl st to join;
16 stitches
Round 3:
ch 2, [hdc 1, 2 hdc in next st], repeat within [ ] 7 times, hdc 2, sl st to join;
24 stitches
Round 4:
ch 2, [hdc 2, 2 hdc in next st], repeat within [ ] 7 times, hdc 3, sl st to join;
32 stitches
Rounds 1

–

4 complete.
NOTE: I'm left handed and flipped each of these images for the right-hand perspective. You're welcome, right-handers. Sorry, lefties.
Round 5:
ch 2, TURN, working in bottom loop created by hdc of Round 4 (see illustration) dc in each loop around;
32 stitches
The first stitch of Round 5 on the hook; the red arrows indicate the next three loops for stitch placement.

Round 6: ch 1, TURN, [sc, fpdc], repeat within [ ] around, sl st to join (do not turn); 32 stitches

Rounds 7–14: [skip st, sc in top of fpdc, fpdc in same st] repeat within [ ] around (7 rows); 32 stitches
Round 6 complete; the arrows illustrate stitch placement for Rounds 7
–
14.
Round 15:
sc around;
32 stitches
Round 16:
[sc 7, 2 sc in next st], repeat within [ ] around (4 times);
36 stitches
Round 17:
sc around;
36 stitches
Round 18:
[sc 8, 2 sc in next st], reapeat within [ ] around (4 times);
40 stitches
Round 19:
sc around, finish off;
40 stitches
Our main living area is this gray, icy-blue color with pops of red-orange. This perfect yarn practically jumped itself into my cart.
This spiral crochet cover takes an inexpensive, store-bought house-plant and makes it special. It uses a minimal amount of yarn and is a great scrap buster! It comes together quickly and would make a great house-warming or hostess gift. Or make one to cover an empty can and use it as a desk accessory for pencils. Personally, my plants now sit on the windowsill in my kitchen resplendent in their new spiral cable-like ribs making me smile every time I'm at the sink.
PS -- Thanks for reading to the end. If you're looking for other projects to hook, check out these great crochet tutorials here on The Inspired Wren! ~Ren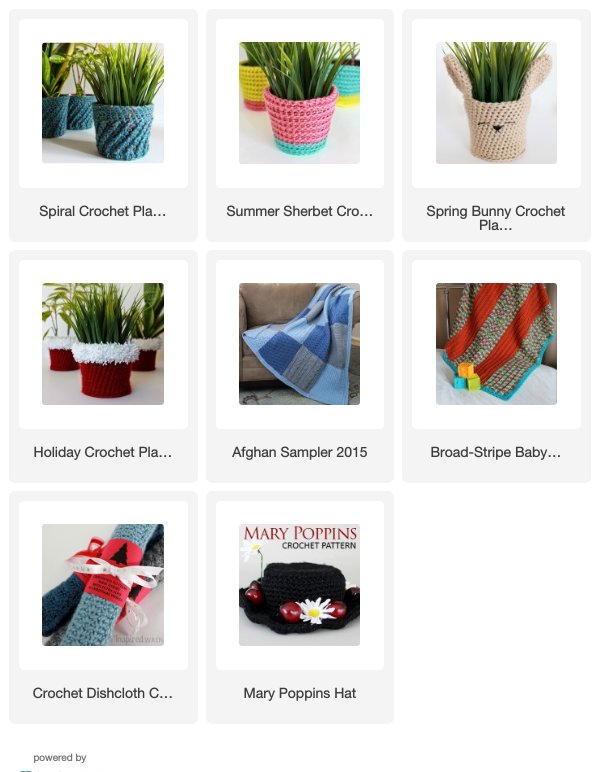 Ren Murphy writes for The Inspired Wren.
___________________________________________________
You should really see all that goes into each project!
Summer means more playing than sewing (or crocheting), but you can still catch daily updates on
Instagram
(and
Flickr
) of works-in-progress. Get that behind the scenes view you're looking for, and sneak peeks of First Tuesday Tutorials, too.
___________________________________________________
The Inspired Wren is a participant in the Amazon Services LLC Associates Program, an affiliate advertising program designed to provide a means for sites to earn advertising fees by advertising and linking to amazon.com.